With MasteryNet, you'll be able to launch and track:
SCORM compliant courses from Mastery
SCORM compliant courses from ANY other courseware supplier
Courses created with Articulate, Authorware, Camtasia, Adobe Presenter, Breeze, Outstart Trainersoft, Toolbook, Wondershare, Elicitus, Lectora, and many other authoring systems.
MasteryNet can even put a "SCORM-Wrapper" around non-compliant course content. This allows you to create courseware from ordinary tools such as:
PowerPoint
PDF documents
Word
HTML Editors
Adobe Flash
Streaming Videos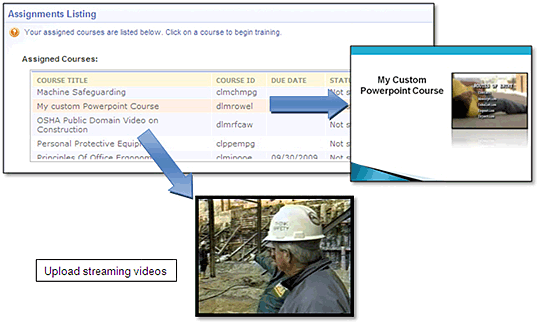 Importing a course is easy.
You don't need to be an expert to import courses. You can import your own courses quickly and easily. Just browse for the course package file and in just a few clicks, you'll be training on your new course.